Comics Squad: Lunch
on
March 7, 2016
at
3:20 pm
Those of you who know me only through Demon may be surprised to learn that I also have a not-so-secret life as a popular children's author. I've drawn dozens of comics for Youth Outlook and Nickelodeon Magazine but my most successful project has been a Choose Your Own Adventure style children's comic called "Meanwhile…" Creating interactive narratives has been a passion of mine since I first started drawing comics 15 years ago and really satisfies my dual interests of mathematics and comics in a way almost nothing else does.
I thought that drawing Demon might mean an end to my days as a children's author (in retrospect, maybe recycling Jimmy's character design AND name for the cum knife wielding protagonist of Demon wasn't the smartest career move). However, I was overjoyed last year when I was contacted by the editors of Comics Squad, with an invite to contribute to their anthology. For those unfamiliar with Comics Squad, I feel it's one of the best overlooked anthologies in comics today. Just reading the list of the contributors is like going through a who's who of alt comics and children's comics MVPs: Gene Yang, Raina Telgemeier, Dav Pilky, Jarrett J. Krosoczka, Matt Holm to start.
I admit it. I was a little reluctant at first. The schedule of a daily webcomic has been all consuming and adding a baby to the mix just about did me in. And of course there was the very real prospect of choking, embarrassing myself publicly next to some of my favorite cartoonists of all time. But opportunities like this just don't come along every day. They pay by the piece (not by the page) so if I was smart, I'd have just knocked out a 12 page story and called it a day. But being an egomaniac with delusions of grandeur of course I had to max it out with a 20 page interactive comic, almost a third of the length of Meanwhile. It was rough. I had to sneak back to my studio after Kazuo went to sleep almost every night for months. But in the end, the piece is something I'm really proud of.
For me the challenge was two fold. Part of it was personal. Seven years after Meanwhile, I wanted to prove to myself and the world that I still had it in me to make an interactive comic. It meant getting all the math and design right. It meant hours of sitting around and concentrating with nothing to show for it but stacks of indecipherable diagrams. It was hard pushing my brain to the edge of its abilities but in the end, I'm really proud of the design of this comic.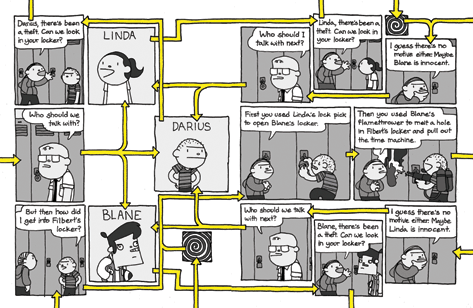 Secondly, in the years since starting Demon 2 years ago, I had a baby, which can turn your mind into mush. I gotta say when an artist has their target demographic right there in the house stuffing panana pancakes into their face, there's an almost irresistible impulse to pander to their basest interests. Just ask George Lucas. Having a baby has changed the way I see the world and see what good children's comic should offer. But I also want my preserve that sharp existentialist edge that I feel made Meanwhile popular (see some of the endings below).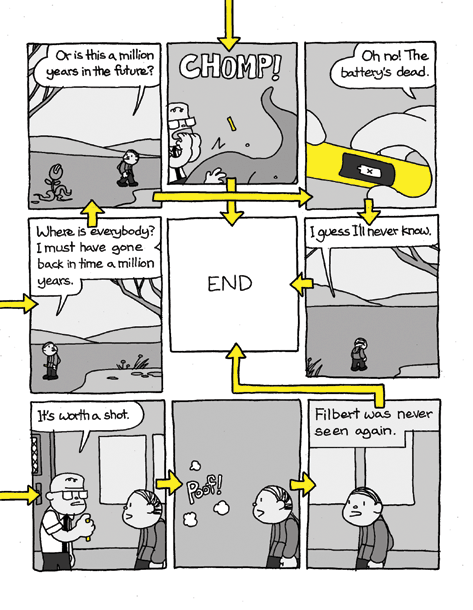 In the end I can say that I'm really proud of my contribution, "Little Jimmy, Kid Detective". Call me sentimental but what makes me most proud of all is that it's my kid, Kazuo's favorite story (after Snoopy Lunchtime Beagle). These days, I can't help but feel like an over the hill boxer that just stepped into the ring with Nathan Hale, Jeffrey Brown and Cece Bell. But I did it. I lasted all 10 rounds! Comics Squad is an amazing anthology. You should check it out whether you've got kids, you were once a kid or are currently a kid yourself. And if you are currently a kid yourself, please don't read the Demon comic above this blog post.
You can order Comics Squad via amazon or better yet, support your local bookstore or library!